Life Gets Complicated. Short Stories About How Teens Cope.
Special Price
$8.00
Regular Price
$19.99
Manners, Middos, and Maturity in One Amazing Book for Teens!
Helping a teenager make the most of this vital stage in life can be challenging, yet Step Into My Shoes aims to do just that: Bring out the very best in our teens. With a focus on character building, this book deals with the everyday dynamics of interpersonal relationships. Sample topics include: not to covet the possessions of others, giving others the benefit of the doubt, judging others favorably, not to embarrass others, using positive speech, telling the truth, and more.
The book is filled with true-to-life stories depicting common situations that test one's character, along with supplemental activities, games, fun facts, thought-provoking questions and inspiring anecdotes. The result is a volume that empowers teens to broaden their perspective, make wise choices, manage emotions, take responsibility, and develop good middos.
Ideal for teens, parents, counselors, camp and school settings, even the Shabbos table, Step Into My Shoes will help your teens to confidently step into their own!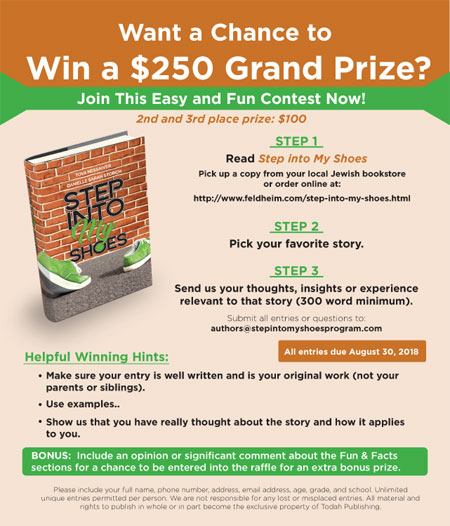 More Information

| | |
| --- | --- |
| Dimensions | 6X9 |
| ISBN | 9780999198216 |
| Author | Danielle Sarah Storch, Tova Nessaiver |
| Publisher | Distributed by Feldheim |
| Number of pages | 304 |
| Item # | 7610 |
| Binding type | Hard Cover |
| Weight | 1.560000 lbs. |
Customer Reviews
My family does not love to read but loved this book !

We loved the book I got the book for me and 4 people in my family read it. ( My family does not love to read but loved this book and I was happy that they where reading. )

Eye opening book!

This book is an important read for educators, parents and teens. Everyone can benefit from these eye opening glimpses into children's experiences. We are able to understand and learn from the emotions and challenges that are occurring in our children's lives. This book is engaging and eye opening! This book makes a great gift for your child's school library.

Engaging & Entertaining

Mazel tov! Huge CONGRATULATIONS! This book, Step Into My Shoes, is masterfully written to engage and entertain readers of all ages while demonstrating Torah values. Buy it for your child; but be sure to read it yourself! I thoroughly enjoyed the stories and the lessons. You will too!

Awesome book!

I loved reading this book. My favorite story in it was Hitting it Home. I really recommend this book.

This is a wonderful book!

This is a wonderful book with profound messages and wisdom that teaches children and teens how to get along and solve conflicts in a peaceful manner. Great stories as well as fun facts and activities. Loved it!

Wow! An amazing read.

I am a teen and I really enjoyed reading this book of short stories. It was fun to read and had brain teasers, games, and cool facts included after the stories. The book covered many topics, and was interesting, informative, and well written. I give this book five stars.
-Shulamis