The Adventures of Shmuel Kafri
Special Price
$10.00
Regular Price
$19.99
on sale
COMICS FORMAT
Peek Inside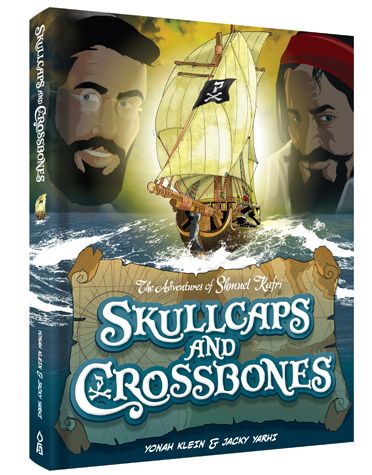 An unearthed home from the times of the Arizal is found to contain a chest of papers, believed to be the private collection of Harav Chaim Vital. Among those papers is a book, purporting to be the private diary of Yaakov Koriel, the 16th-century Jewish pirate who captained three ships in the Caribbean. Koriel, who abandoned piracy and moved to Eretz Yisrael, left behind this record of his life. Exciting and moving in turn, it shows how a young Jewish boy in Inquisition Spain became a naval captain, then a pirate, and finally returned to life as a religious Jew. But the diary has more than one secret. Shmuel Kafri and his son, Yitzchak, investigate the Koriel diary on behalf of the Jewish Antiquities Society, and quickly find that the diary is even more valuable than they could have imagined, well worth a trip to Israel and Jamaica. But someone else is also trying to get his hands on the diary.
More Information

| | |
| --- | --- |
| Dimensions | 6.2" x 9.2" |
| ISBN | 978-159826-978-9 |
| Author | Yonah Klein |
| Illustrator | Yarhi, Jacky |
| Publisher | Feldheim Publishers |
| Number of pages | 44 |
| Item # | 6960 |
| Binding type | Hard Cover |
| Weight | 1.040000 lbs. |
Customer Reviews
Great for teen/preteens

Bought this for my 12 y.o. son. We'd just been reading about the era in Jewish history when Spain forced Jews to convert (or die) and then used the Inquisition to expose those who hadn't really converted. This was a great addition to our study, and in a format (graphic novel) that he loves. The book had a lot of interesting historical facts that I was unfamiliar with and presented another way that some Jews escaped the troubles in Spain. (And it was nice to find a graphic novel that he would love that covered a more worthwhile topic than his usual books.)

Plus, his 11 y.o. sister loved it, too.